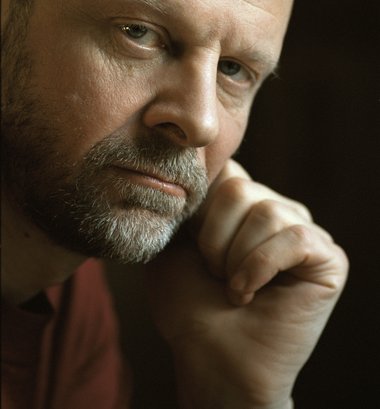 Arvydas Malcys 
(b.1957) was born in Kaunas, where he started music studies under Vilnius Petrauskas. Malcys graduated from Juozas Gruodis Conservatoire in 1975.Gradua­ted twice from the Lithuanian Acade­my of Music, receiving diplomas both in cello playing (under Prof. Domas Svirskis) in 1980, and composition (un­der Prof. Vytautas Laurušas) in 1989. During the years of latter studies he has also attended lectures on polyphony with Osvaldas Balakauskas and modern harmony and analysis with Rimantas Janeliauskas.
The works by Malcys have been showcased at the international festivals Gaida, Jauna muzika, Iš arti (Lithuania), Ghent Contemporary Music Festival (Belgium), Ravenna Festival (Italy), In­ternational Review of Composers in Belgrade (Serbia), ISCM World Music Days in Ljubljana (Slovenia), Sinfonia Baltica in Riga (Latvia), Kremlin Christmas Music Festival, Mos­cow Autumn, Actual Music Gallery, Yuri Bashmet Festival in Moscow (Russia), 21 ct. Perspectives Festival in Yerevan (Ar­menia), Two Days and Two Nights of New Music in Odessa (Ukraine), Con­temporary Music Festival Europe-Asia in Kazan (Tatarstan, Russia), Kiev Music Fest and Gogolfest (Ukraine), Kammermusik­fest Lockenhaus (Austria), Euro-Mediterranean Youth Music Expo (Cyprus), Schleswig-Holstein Festival (Germany), Silk Road Arts Festival in Xi'an (China), Sochi International Arts Festival (Russia), Echternach Music Festival (Luxem­bourg), as well as music festivals in Ankara, Se­oul, Berlin, Leipzig, Rotterdam, Haifa and Costa Rica. His works were performed in thirty coun­tries in Europe, Asia, North and South America.
In 2004, he was awarded 3rd prize for the symphonic composition Only Heaven Above Us at the Sinfonia Baltica International Compo­sers' Competition in Riga; in 2005 – 1st prize for the Concerto for piano and chamber orchestra at the Juozas Karosas Composers' Competition; in 2006 – Conductor's Prize for the composition In memoriam for string orchestra at the com­posers' competition "Mozart 250" in Moscow; in 2008 – 1st prize for the composition Saxchord for tenor saxophone and string quartet at the Juozas Karosas Composers' Competition; in 2007 – 2nd Prize for Cantus sirenum at the Haifa International Flute Festival, and in 2009 his Nar­cissus was included in the obligatory program at the Max Rostal Viola Competition in Ber­lin.
Twenty CDs featuring Malcys works and eleven portrait CDs have been released to date.
Arvydas Malcys has collaborated with a number of renowned performers including David Geringas, Yuri Bashmet, Sergei Krylov, Camilla Hoitenga, Mark Grauwels, Roger Arve Vigulf, Denis Shapovalov, Boris Andrianov, Alexander Ramm, Karine Georgian, Hartmut Rohde, Alexander Zemtsov, Maria Fedotova, Alena Baeva, Bohdana Pivnenko, Mindaugas Bačkus, Guoda Gedvilaitė, Sergejus Okruško, Liudas Mockūnas, Raimondas Sviackevičius, Martynas Levickis, as well as conductors Mstislav Rostropovich, Misha Rakhlevsky, Denis Vlasenko, Olari Elts, Andres Mustonen, Hendrik Vestmann, Andris Nelsons, Damian Iorio, Daniel Gazon, Volodimir Sirenko, Valery Matiukhin, Robertas Šervenikas, Juozas Domarkas, Modestas Pitrėnas, Saulius Sondeckis, Gintaras Rinkevičius, Modestas Barkauskas, Vytautas Lukočius, Donatas Katkus, Martynas Stakionis, Martynas Staškus.
Malcys' works were performed by more than thirty symphony and chamber orchestras including Armenian Philharmonic Orchestra, Latvian National Symphony Orchestra, Baden-Baden Philharmonic Orchestra, Leipzig MDR Symphony Orchestra, Meiningen Symphony Orchestra, Novaya Rossiya Symphony Orches­tra, Kazan State Symphony Orchestra, Ljublja­na Philharmonic Chamber Orchestra, Belgrade Philharmonic Chamber Orchestra, Chamber Orchestra Kremlin (Moscow), Moscow Soloists, Moscow Virtuosi, Leopoldinum Chamber Or­chestra (Poland), Berlin Camerata, Hamburger camerata, Israeli Vir­tuosi, Lappeenranta sinfonietta, Kymi Sinfonietta (Finland), Vestfold Sinfo­nietta (Norway), Solistes de Sofia (Bulgaria), Kiev Kamerata as well as other collectives including all Lithuanian orchestras.
Instrumental music makes up the most significant part of Malcys' creative output. In a number of his works for various ins­trumental settings, the tendencies of absolute music fit well with nearly expressionistic imagery and sound po­etry reminiscent of the impressionism; a feel for neoclassical forms with alea­tory and a penchant for colourful textu­res and specific sound effects. Having a discriminating ear, he takes special in­terest in timbre possibilities of different instruments in various registers of their range. Well familiar with peculiarities of instruments, especially strings, Mal­cys manipulates manifold expressional possibilities of individual instruments and their combinations, and thereby shapes them to serve as strongly-fla­voured personifications, well-nigh "the­atrical" characters. His music is fraught with contrast, grotesque and irony.
Info from www.mic.lt

Arvydas Malcys biography.doc

(25.5 KB)